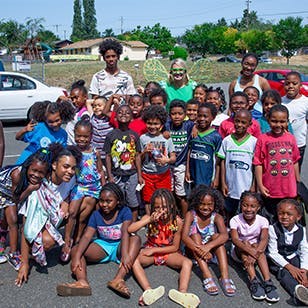 Summer Fun with Empowering Youth & Families Outreach
Summer is all about fun and friends, and I made a ton of new friends at Empowering Youth & Families Outreach in Seattle's Rainier Valley. I visited their summer camp for story time and to talk to the kids about the importance of caring for their smiles. Campers also honed their flossing skills with an activity where "food" (Play-Doh) is stuffed in the spaces of "teeth" (a giant LEGO®), and kids practice flossing the teeth to remove the food. Each child walked away a better flosser and received a brand-new toothbrush!
To find a Tooth Fairy event near you this fall, visit our calendar.